Can 'Occupy Wall Street' really get money out of politics?
While 'Occupy Wall Street' has avoided specifying demands, money in politics is a clear target. Supporters of campaign-finance reform hope the movement gives their cause momentum.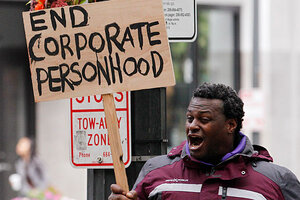 Elaine Thompson/AP
The "Occupy Wall Street" movement has been catching flak for its perceived lack of clear goals, but the protests have already put new energy behind one big idea: reforming the role of money in politics.
Advocates of campaign finance reform say the protesters in New York and elsewhere have, in recent weeks, brought the question of corporate influence closer to the front burner of national discourse, adding fresh momentum to their own efforts.
"I can't tell you how thrilled I am," says Annabel Park, founder and president of Coffee Party USA, a group that promotes campaign finance reform with grass-roots support. "It's like a miracle," she says. Even though many Americans worry about the money in politics, "it's hard to get people's attention on this."
Ms. Park says she's seen synergy between her group and Occupy Wall Street, which has spawned a range of nationwide demonstrations since protesters set up camp in Manhattan's Zuccotti Park on Sept. 17. Some Coffee Party followers have joined in Occupy rallies. And Park says she's seen a rise in public support for her own group over the past month.
Even before Occupy Wall Street began, the Coffee Party was planning an "Enough is enough" rally in Washington on Oct. 29. That event could see its ranks grow, as it now becomes part of a larger season of protest in America.
---