Which GOP flat tax plan is fairest of them all?
So far, Herman Cain, Rick Perry, and Newt Gingrich have all introduced flat tax plans, which would lead to less revenue and broader spending cuts, analysts say.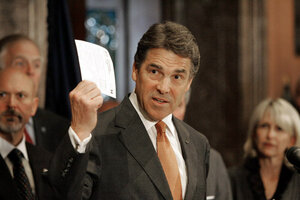 Mary Ann Chastain/AP
Three Republican presidential candidates have put forward flat tax plans so far, but their proposals would not affect US taxpayers in the same way. All, however, would probably lead to less revenue for the US government, analysts say, meaning spending cuts of a sizable magnitude would be in order.
Businessman Herman Cain's "9-9-9" plan – a 9 percent income tax, 9 percent sales tax, and 9 percent corporate tax rate – is perhaps best known. But Texas Gov. Rick Perry has now introduced his own vision for a 20 percent flat tax on income and a 20 percent tax rate on corporations. Moreover, Newt Gingrich, now running third or fourth in some polls, has proposed an optional 15 percent flat tax on personal income.
What would these various flat tax plans mean for you? What would they do to the nation's budget deficit?
Tax experts are struggling to answer those questions, noting that the candidates, except for Mr. Perry, have not spelled out their plans in detail. For example, Mr. Cain has already changed his 9-9-9 proposal to exempt people below the poverty line from paying taxes, but he hasn't said exactly how that will happen.
"Anybody who is in the tax world will say the devil is in the details," says Michael Graetz, a professor at Columbia University in New York and an expert on taxation. "None of the candidates want to get too detailed."
Nonetheless, from what is known, here is how some tax experts view the three plans.
The Perry proposal
---