Why Indiana GOP wants to attack labor unions, despite Midwest backlash
Indiana failed to pass a law to curtail the rights of labor unions this year. Key lawmakers say they'll try again, even though voters have struck out against similar laws in Ohio and Wisconsin.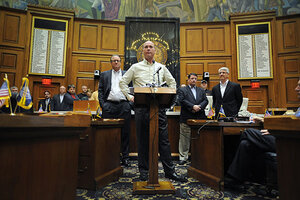 Matt Kryger/Indianapolis Star/AP
Ignoring the public backlash against recent antiunion laws in Wisconsin and Ohio, the Indiana Legislature is poised to take up new bills next year that could practically eviscerate union power in the state.
Lawmakers plan to introduce bills in both the House and Senate that would make Indiana a so-called "right to work" state. In short, the bills would allow workers to refuse to join a union without having to pay a fee.
Twenty-two states, mostly in the South and interior West, already have right-to-work laws. Indiana tried to join their ranks this year, but when a House committee passed a right-to-work bill on a party-line vote in late February, Democrats walked out, fleeing to Illinois for five weeks. The bill was later removed by Republicans to lure Democrats back to the state.
The issue is resurfacing this week with the announcement by House Speaker Brian Bosma (R) and Senate President Pro Tempore David Long (R) that they plan to make the bill a top priority in next year's legislative session, which begins Jan. 4. They say the bill is a way to make Indiana friendlier for job creation and to give workers a choice. Unions say the bill is a smokescreen for lowering wages and weakening union strength.
In speaking to reporters Monday, Representative Bosma said the proposed bill "means back to work for the unemployed. This is America, Hoosiers deserve this freedom."
Legislation viewed as hostile to unions swept through the Midwest this year, starting with a Wisconsin law that stripped many public unions of their collective-bargaining rights. The law is at the center of a current petition drive to recall Gov. Scott Walker (R), who signed the bill into law in March.
---