Wisconsin Gov. Scott Walker faces recall drive. California redux?
A petition drive to recall Republican Gov. Scott Walker of Wisconsin officially begins Tuesday. The recall drive is part of the continued fallout from Wisconsin's collective-bargaining law.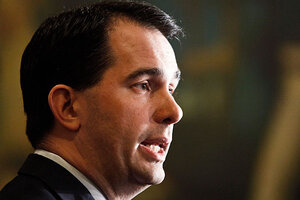 Andy Manis/AP/File
The latest Wisconsin recall drive could apparently be named "Anybody but Walker."
Democrats have not yet found a candidate to oppose Gov. Scott Walker (R), but they are pressing ahead with their campaign to recall him. A petition drive begins Tuesday. The campaign marks the continued fallout from the controversial 2011 bill that stripped most public employee unions of their collective-bargaining rights.
The recall drive could be fraught with difficulties for both sides. Democrats will have to be wary of blaming Governor Walker for the troubled economy, given that they will have to defend President Obama against the same charge.
Meanwhile, Walker must attempt to head off any perception that he is a lame-duck governor, or momentum against him could build, says Paul Maslin, a Democratic pollster who worked for former California Gov. Gray Davis (D), who was recalled in 2003.
The recall effort launches a week after voters in Ohio repealed a similar but harsher collective-bargaining law. The repeal has galvanized anti-Walker forces in Wisconsin, which has long been seen as ground zero for the broader Republican push to curtail union rights as a way to trim state budgets.
In a preview of the campaign against Walker, state Democratic Party Chairman Mike Tate wrote in the Milwaukee Journal-Sentinel that Walker's 2010 gubernatorial campaign was deceptive.
Once in office, he said, Walker violated "the public's trust by ramming through legislation that degrades the state's standards and traditions, shows increasingly bad management skills and panders to special interests at the expense of the people."
Walker became eligible for a recall this month because it marks the beginning of Walker's second year in office, and Wisconsin law bans recalling governors during their first year. To get a recall election on the ballot, opponents need 540,208 signatures – or one-quarter of the 2.2 million votes cast in the November 2010 election – by Jan. 17.
The recall drive also targets Lt. Gov. Rebecca Kleefisch and three Republican senators. If the petition drive succeeds, the election is expected in May.
---