Rahm Emanuel and public sector union play hardball over Chicago library hours
Across the US, financially strapped local governments are cutting back on library hours. In Chicago, Mayor Rahm Emanuel has reduced the libraries' week to five days amid a stand-off with a public union.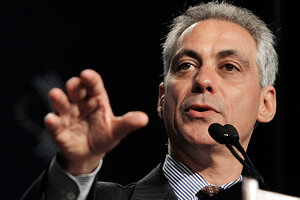 M. Spencer Green/AP
A standoff between Chicago Mayor Rahm Emanuel and a public sector union has reduced opening hours at the city's public libraries, shortening the system's week from six days to five.
The dispute is not unique to Chicago: All across the United States, municipalities seeking to fill gaps in their budgets are routinely cutting hours and staff in local library systems, a trend that critics say impacts the most vulnerable population in a troubled economy.
"All local government agencies are vulnerable to cuts in this economic climate, but libraries need to be sure they're telling the story of how they are part of the solution to the economic crisis," says Molly Raphael, president of the American Library Association (ALA), a non-profit trade association based in Chicago.
The Chicago Public Library system is being forced to shutter 76 of its 79 branches on Mondays, reducing hours to 40 a week. The new schedule went into effect this week, a decision dictated by Mayor Emanuel's office late last week.
Emanuel is accusing the American Federation of State, County and Municipal Employees (AFSCME) Council 31, which represents library employees, of using the library issue as "a bargaining chip" and refusing to accede to concessions on "a host of other subjects."
According to the Chicago Public Library marketing director, Ruth Lednicer, 176 employees were laid off as a result of the Monday closings, which the system is considering "temporary … until further notice."
---