The hidden issue in South Carolina primary: labor union clout
Mitt Romney in particular has used the South Carolina primary to test anti-labor union policies as a campaign issue. His pitch to expand right-to-work laws could lead to Wisconsin redux.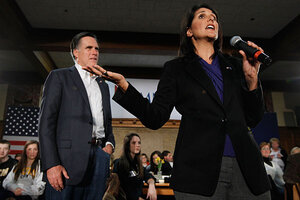 Charles Dharapak/AP
When South Carolina Gov. Nikki Haley came to New Hampshire to endorse Mitt Romney earlier this month, it marked more than just a meeting of political expediency. Yes, South Carolina was the next state on the primary calendar. And yes, Governor Haley could help him there.
But the topic of her remarks was something more than a typical stump speech. It was a trial balloon that could become a major issue in this autumn's general election.
"One of the reasons we're bringing jobs to South Carolina is that we have the lowest unionization in the country, and I want to keep it that way," she said at a Jan. 6 rally in Tilton, N.H. "Barack Obama doesn't appreciate right-to-work states. Mitt Romney appreciates right-to-work states … and I need a partner in the White House."
RECOMMENDED: Mitt Romney gaffes: 8 times the button-down candidate should have buttoned up
Right-to-work states are those that that bar unions from deducting dues from worker paychecks as a condition of employment. Unions see right-to-work as a bid to undermine union financing, capacity to organize, and political clout.
---