Wisconsin's Scott Walker poised to bury recall foes in money chase
Wisconsin Gov. Scott Walker raised $4.5 million in a recent five-week period – vastly more than his opponents. The sum might scare off unions from spending big money in a potential recall election.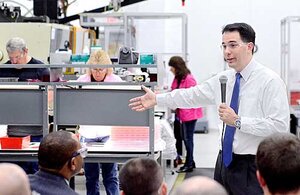 Steve Kinderman/Eau Claire Leader-Telegram/AP
Even though the election to recall Gov. Scott Walker (R) of Wisconsin is months away, it is already gearing up to be an expensive fight.
Governor Walker has raised more in campaign donations to fight the recall effort than he did to win his seat less than two years ago. In fact, his fundraising advantage over unions leading the recall effort is so massive that unions are now questioning how much they should try to compete.
With other states including Indiana, Ohio and Florida gearing up for antiunion fights, some labor leaders are wary of dumping valuable resources into Wisconsin.
The AFL-CIO "always expects to be outspent," spokesman Jeff Hauser told The Hill, Capitol Hill's newspaper. But Wisconsin is indicative of a deeper problem, he added, because "the margin of being outspent is greater in 2012 than it's ever been before."
With big business pushing Republicans nationwide to take on unions – the primary opposition to their pro-business agenda – antiunion measures are getting substantial financial backing. In Wisconsin, the disparities are stark.
In a filing with the state's election agency Monday, Walker disclosed that he raised about $4.5 million in the five-week period running between Dec. 11 and Jan. 17. During the past year, between Jan. 1, 2011, and Jan. 17, 2012, he raised a total of $12 million.
---