America's big wealth gap: Is it good, bad, or irrelevant?
The gap between rich and poor is at its widest since the Roaring '20s. Obama complains that it's unfair, but a growing chorus of economists and sociologists say it's worse than that.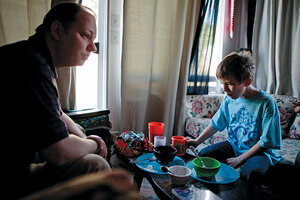 Lucy Nicholson/Reuters
Not since the Roaring '20s has the income gap between rich and poor been as wide as it is today in America – a development that has set politicians, various advocates, and average citizens debating if and why it matters.
President Obama, revving up for a reelection campaign, decries the wealth gap as fundamentally unfair. It's one reason his economic strategy calls for higher taxes on the wealthy.
On the Republican side, presidential hopeful Mitt Romney is seeking to fend off criticism that his wealth and some of his public comments show him to be out of touch with Main Street America. Those rising to his defense celebrate his wealth as just reward for hard work and business savvy – the very qualities the nation itself needs, they say, to get the economy going again.
As for the American public, considerable consternation exists from Peoria to Dodge about how pronounced the rich-poor gap has become. In a recent Christian Science Monitor/TIPP poll, 3 in 4 US adults describe themselves as "concerned" about it, and 51 percent say they believe that reducing income inequality would make the economy and society better off.
Are they right to be concerned? Is there something inherently dangerous – to economic health or to the fabric of society – when the income gap gets this wide? Economists have studied such questions for decades, and today the preponderance of evidence tilts toward the view that extreme inequality does hinder, to some debatable degree, economic strength and social stability.
"The view that income inequality harms growth – or that improved equality can help sustain growth – has become more widely held in recent years," World Bank economist Branko Milanovic said in a September report. Not that long ago "the reverse position – that inequality is good for growth – held sway among economists."
---