Violence Against Women Act: A political opening for Democrats?
Senate Democrats aim to extend the Violence Against Women Act, adding services for illegal immigrants and same-sex couples, a move Republicans say is out to score political points.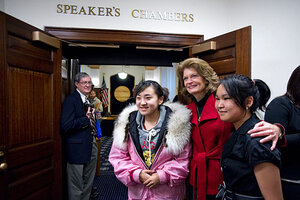 Michael Penn/The Juneau Empire/AP/File
Violence against women – once a bipartisan concern on Capitol Hill – is shaping up as a largely partisan clash, as Democrats push to extend a legislative winning streak on women's health and rights.
Six female Democratic senators were joined by Sen. Lisa Murkowski of Alaska (R) on the Senate floor Thursday to offer their support for the Violence Against Women Reauthorization Act, which expired in September.
The bill expands funding for state and local governments to respond to domestic violence, dating violence, sexual assault, and (a new category) stalking.
Two previous iterations of the six-year bill, originally drafted by then-Sen. Joseph Biden in 1993, have been renewed with solid bipartisan support. However, the new bill cleared the Senate Finance Committee on Feb. 2 without a single GOP vote.
Indications are that both sides are playing politics.
Democrats have added provisions, such as expanding aid to same-sex couples and undocumented immigrants, that make the bill a nonstarter for many Republicans. In a presidential election year, Democrats are using the Republicans' opposition to bolster their claims that Republicans are waging a "war against women" – a bid to woo women voters.
---