Tax the rich ... more? Why Jerry Brown changed his plan to save California.
California Gov. Jerry Brown wants voters to back his ballot initiative to raise taxes. But this week he changed it to fend off a teacher's union that could have ruined his plans.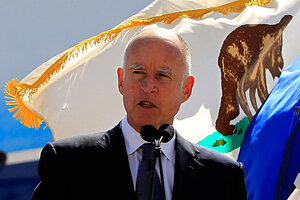 Lucy Nicholson/REUTERS
California Gov. Jerry Brown (D) is willing to ratchet up taxes on the rich in order to ensure that his top political priority – a ballot initiative to help pare back California's $9.2 billion deficit – has a better chance of passing this fall.
The move is a nod to political reality. The California Federation of Teachers (CFT) was planning to put its own tax measures on the ballot to compete with Governor Brown's, and voters typically vote "no" when confused by multiple initiatives on the same topic. So in a deal with the union this week, Brown agreed to amend his plan, making it tougher on California's wealthiest residents.
Brown's willingness to change his plan is evidence of how deeply the initiative process has reshaped the political landscape in California. With the Republican minority refusing to play ball in the Legislature, the ballot was Brown's last resort for his tax plan – and with the teacher's union threatening to play spoiler, Brown had little choice but to compromise, experts say.
"The initiative system shifts a lot of power from elected officials to those who can mount initiative campaigns," says Jack Pitney, a political scientist at Claremont McKenna College, via e-mail. "Brown didn't have much leverage over the union. The union had a great deal of leverage over Brown."
---