Jerry Brown's defiant State of the State: California is still golden
With chronic budget woes engulfing California, many analysts had expected a 'gloom and doom' State of the State address from Gov. Jerry Brown. They got nothing of the sort.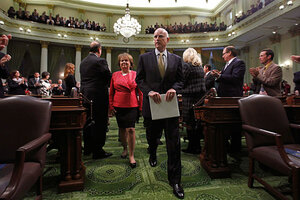 Rich Pedroncelli/AP
California Gov. Jerry Brown defied expectations Wednesday, delivering a State of the State speech that was unapologetically ambitious and even visionary despite a perpetual budget crisis that has, in recent years, dimmed the luster of the Golden State.
Governor Brown had been expected to use his address to further persuade voters to support a ballot initiative that asks voters to raise taxes on themselves – a last-ditch effort to solve California's chronic budget shortfalls. Instead, he attempted to rally Californians to a sense of common purpose and destiny.
The state which birthed Apple, Intel, Hewlett-Packard, Twitter, Facebook, and "countless other creative companies … is still the land of dreams," he said. "Rumors of [California's] demise are greatly exaggerated."
It was the platform for an exhaustive list of goals that Brown laid out for California: stimulate jobs, build renewable energy, launch the nation's only high-speed rail system, reach agreement on a plan to fix the Delta, improve schools, reform pensions, and "make sure prison realignment is working."
---