Why Democrats are cheering the Paul Ryan Republican budget plan
As they did last year, Democrats are attacking the Republican budget plan released by Rep. Paul Ryan as an 'end of Medicare as we know it.' They think it will help them in November.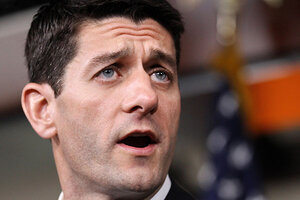 Jacquelyn Martin/AP
With the budget plan he presented Tuesday, Rep. Paul Ryan (R) of Wisconsin wanted to draw clean, clear distinctions between how Republicans and Democrats would handle the huge federal deficits now facing the US.
Democrats, however, believe Congressman Ryan has just given them a clean, clear shot at Republican candidates in November.
On Tuesday, they were already lining up to take their swing at what they considered a political piñata.
The primary target, as was the case when House Budget Chairman Ryan released his budget last year, is Medicare. Last year, Ryan's proposals for reforming Medicare became a campaign issue, with one Democratic candidate in upstate New York winning a traditionally Republican seat in a special congressional election by building her message around Republican plans to "end Medicare."
Ryan has softened last year's reforms, even working with Sen. Ron Wyden (D) of Oregon to give his efforts a bipartisan sheen.
But so far, the Democrats' response to the Ryan plan appears to be a carbon copy of a year ago.
---