N.Y. race heats up: Democrats test message on GOP plan to 'end Medicare'
In a special congressional election for New York's solidly Republican 26th District, the Democrat says her GOP foe would back Paul Ryan's plan to 'end Medicare.' The parties are taking notice.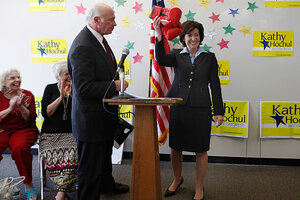 David Duprey/AP
The special congressional election in New York on May 24 should have been a sleepy affair. The 26th District, in the western part of the state, is solidly Republican, and is likely to disappear anyway in the 2012 election due to redistricting.
But the Democrat, Erie County Clerk Kathy Hochul, has the Republicans running scared, as she pounds Republican state Assemblywoman Jane Corwin over Washington Republicans' plan to fundamentally change Medicare. If Ms. Hochul pulls off an upset, watch the Democratic candidates duplicate her message across the country.
"Jane Corwin said she would vote for the 2012 Republican budget that would essentially end Medicare," a Hochul ad warns darkly.
The ad is referring to the plan put forth by House Budget Committee chairman Paul Ryan that would end Medicare as a fee-for-service program and instead give seniors a fixed sum to purchase insurance on the private market. Democrats say that over time, the vouchers would not keep up with the rising cost of insurance. Republican members of Congress have faced angry constituents at town hall meetings over the plan.
Third candidate a big factor
But in fact, analysts say, the bigger factor in the NY-26 race threatening Assemblywoman Corwin is the presence of a third-party candidate, businessman Jack Davis, who got himself listed on the ballot as a "Tea Party" candidate. Mr. Davis has run for the seat three previous times as a Democrat, and he has little organized tea party support. But polls show he is siphoning more support away from Corwin than from Hochul.
---