House GOP looks ready to shrink US role in Medicare. Is Obama?
House's plan for next round of budget-cutting would revamp the social contract between Medicare recipients and the government. Obama may say on Wednesday how far he'll go on Medicare reform.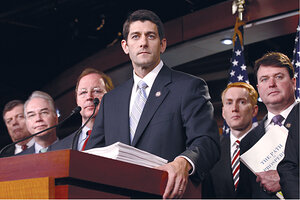 Kevin Lamarque/Reuters
House Republicans' budget plan for fiscal year 2012, slated to be taken up by the full House later this week, aims to roll back nearly half a century of social policy, as well as cut trillions in federal spending. Though it has scant prospect of gaining Senate approval, the plan is nonetheless expected to define partisan fault lines through the 2012 election and beyond.
On Wednesday, President Obama will lay out a competing idea for how to go about cutting government spending and reducing the record federal deficit. He, too, is expected to address the social contract with Americans via entitlement programs, after mostly ignoring that issue in his 2012 budget proposal earlier this year.
Crafted by Rep. Paul Ryan (R) of Wisconsin, who is the Budget Committee chairman, the plan would cut $5.8 trillion over the next 10 years, targeting some of America's most popular government programs. He said on April 5 that it's time to end "empty promises to Americans from a government that is going broke."
The House GOP proposal would roll back Obama-era tax increases, defund the health-care reform law passed last year, transform Medicaid (for the poor) into block grants to the states, and replace the defined benefits of Medicare (for seniors) with subsidies for private insurance.
---