Arizona immigration law: states vs. Obama at US Supreme Court, again
The US Supreme Court is set to hear arguments Wednesday concerning the tough Arizona immigration law. Key question: Does the state statute usurp federal authority to set immigration policy?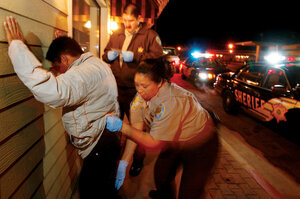 Ross D. Franklin/AP
For the second time in a month, the US Supreme Court will hear oral argument in a major election-year dispute that pits state officials against the Obama administration over the balance of power between states and the national government.
On April 25, the issue before the justices is whether Arizona exceeded its authority when it passed a tough immigration enforcement statute, Senate Bill 1070, designed to encourage illegal immigrants to pack up and leave. The Arizona strategy is called "attrition through enforcement."
The Arizona case comes roughly a month after 26 states argued at the high court that Congress had overstepped its authority in passing the president's health-care reform law.
As in the health-care case, the stakes in the immigration dispute extend well beyond fundamental questions about the scope of state and federal power. A high court decision in late June could boost or complicate political fortunes in a presidential election year.
Immigration is an important issue to many Latino voters, a significant and growing constituency within the US electorate. Polling shows President Obama with a substantial lead among Latinos over presumptive Republican nominee Mitt Romney.
But immigration is also a powerful issue among conservatives and many independents. Polls show that despite an Obama administration lawsuit to block Arizona's immigration enforcement law, Americans favor the state's tough provision 2 to 1.
---