Cory Booker: Have the Democrats figured out how to respond?
Team Romney is trying to milk the rogue comments by Obama ally Cory Booker for all they're worth. But Obama's press conference in Chicago has given his own team some ammunition.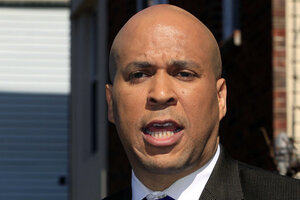 Mel Evans/AP/File
It's Day Three of "Booker-palooza," and Team Romney is milking it for all it can.
The Republicans are portraying comments from two more Democrats as supportive of Cory Booker – the rising-star mayor of Newark, N.J., and normally an Obama ally – who went rogue Sunday when he called an Obama ad criticizing Mitt Romney's old firm, Bain Capital, "nauseating."
Exhibit A: Sen. Mark Warner of Virginia, who said Tuesday on MSNBC, "I think Bain Capital was a very successful business."
Exhibit B: Former Pennsylvania Gov. Ed Rendell, who told the news outlet Buzzfeed that he found the Obama campaign's attack on Bain "very disappointing."
But a fuller examination of the comments shows that, in fact, the Democrats are getting their talking points together on the tricky subject of Bain's record in private equity, in which some businesses it got involved in succeeded and others failed.
When asked about Bain's ethics, Senator Warner avoided the question, asserting simply that the company was "very successful." Then Warner, himself a wealthy former businessman, sought to draw the distinction between the private sector and public service.
"I think they got a good return for their investors," Warner said of Bain. "That is what they were supposed to do. I think that when you're in public life, though, what you've got is a different time horizon."
---