Startup Act 2.0: Could it be an immigration breakthrough?
Startup Act 2.0 sponsors aim to build a new case for immigration reform. Their point: America has a deficit of employees with skills relevant to an economy built on innovation – and new immigrants can help.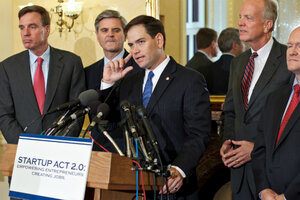 J. Scott Applewhite/AP Photo/File
Forget the border fence or allusions to the American dream – if you want reforms of the nation's immigration policy, talk about jobs.
Talk, in other words, about the Startup 2.0 Act.
If a gridlocked Congress is to make headway on modernizing US immigration policy, it may be by fighting for reforms because of their economic imperatives rather than getting bogged down in highly charged cultural or moral debates.
"For too long we've been arguing immigration policy from the extremes, border security on one side and amnesty on the other side, in a debate about emotions," says John Feinblatt, chief policy adviser to New York City Mayor Michael Bloomberg. "What it needs to be is a debate about economics."
Mayor Bloomberg is a leading member of the Partnership for a New American Economy, which recently published a study of American immigration policy's shortcomings in attracting and keeping top global talent.
And in a debate about economics, the Startup 2.0 Act's bipartisan contingent of supporters in both houses of Congress believes it has got the data to lay low all doubters. Immigration, the group contends, is a jobs issue.
But they're running up against a record of failed attempts at immigration reform since at least 2005 – and no sign that leadership is willing to take up this fight in an election year.
What would the legislation, introduced by its House sponsors on Wednesday and by its Senate proponents late last month, do?
---