Tale of two jobs bills: a parable of gridlock in Congress
The House passed the JOBS Act, which businesses call important but incremental. The much more consequential transportation bill, however, remains in partisan gridlock.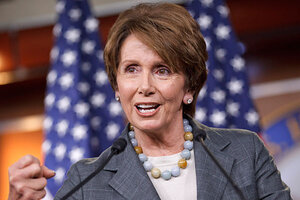 J. Scott Applewhite/AP
The embers of bipartisanship burned a bit brighter on Capitol Hill Thursday as the House passed the Jumpstart Our Business Startups (JOBS) Act, easing regulations on small businesses with solid bipartisan approval.
House majority leader Eric Cantor (R) of Virginia hailed the 390 to 23 vote. "What we're trying to do is regain the confidence of the people who sent us here, and by having a win like this, I think we can demonstrate that we really can work together," he said.
The glow of bipartisan comity for the bite-sized JOBS bill, however, illuminated Congress' larger challenge: Bipartisan compromise on limited action like the JOBS Act is relatively easy, while heavy lifting on major bills, like the $109 billion transportation bill currently before the Senate, remains a Herculean task.
House minority leader Nancy Pelosi (D) of California told reporters on Thursday morning that the JOBS Act amounted to a "jobs bills light, especially compared with what we need to do on the transportation bill."
The JOBS bill stitched together six pieces of legislation, four of which had previously passed the House in one form or another. The measure had small-bore effects – mostly lightening the federal regulatory touch on companies attempting to raise capital.But the transportation bill is a sprawling piece of legislation touching all congressional districts, where bipartisanship in the Senate has not been able to move House Republicans toward action.
---