Health insurers foresee rising premiums if court nixes 'individual mandate'
A US Supreme Court ruling against the individual mandate in the Obama health-care law would batter the insurance industry. It could also raise the price of insurance for millions of Americans.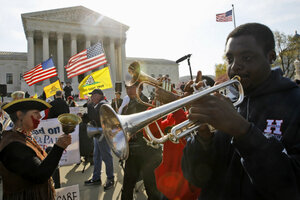 Charles Dharapak/AP/File
When President Obama pushed for a sweeping overhaul of America's health insurance system in 2010, the health insurance industry went along with a central premise of the law: that it would agree to insure "all comers," regardless of their state of health, if a new mandate also coaxed younger and healthier Americans to buy insurance.
In principle, millions of Americans who could not otherwise afford insurance would be covered, while the influx of healthy purchasers of insurance would help pay the costs. Any day now, in a ruling by the US Supreme Court, this central bargain in Mr. Obama's Affordable Care Act could unravel.
It's not hard to see why the health insurance industry doesn't like that idea. The Supreme Court could rule that the "individual mandate" in the law is unconstitutional, thus removing a big expected stream of revenue, while leaving in place the law's guaranteed-access provisions, which impose big costs on insurers.
But outside experts say the negative consequences also would ripple beyond the insurance business to affect the pocketbooks of millions of Americans, who would face a rising price for their health insurance.
"We have the worst possible outcome" in this scenario, says J.D. Kleinke, a health-policy expert at the conservative American Enterprise Institute. Yet this outcome appears quite probable, he says, because the Supreme Court is tasked with considering questions of law and the Constitution, not what would be optimal for America's health-care system.
---