New polls show glaring weaknesses for both Obama and Romney
The latest polls show that both presidential candidates suffer from major weaknesses. A sputtering economy dogs President Obama. Mitt Romney scores even lower than Mr. Obama on favorability.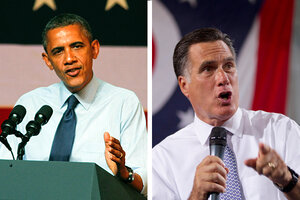 (L.-r.) Jack Plunkett/AP, Evan Vucci/AP
The Obama-Romney horse race is still a dead heat, according to the latest national polls. No surprise there. But below that top line, the numbers tell a tale of two presidential candidates with glaring weaknesses.
For President Obama, the sputtering economic recovery is his Achilles' heel. Voters are increasingly discouraged by Mr. Obama's handling of the economy, with only 39 percent of registered voters saying they approve, versus 55 percent who disapprove, according to the latest New York Times-CBS poll. That's down from 44 percent approval, 48 percent disapproval in April.
And that decline, in turn, is likely what's sinking Obama's job approval number, which went from 48 percent in April to 44 percent in mid-July.
The most alarming number of all for Obama may be "favorability" - a measure of how voters feel overall about him, not his job performance or whether they would vote for him over Mitt Romney. In the head-to-head horse race, he's at 46 percent to Mr. Romney's 47 percent, a statistical tie. But on favorability, Obama is at 36 percent, the lowest number of his presidency for this poll, down from 42 percent in April.
One would think such low public regard would spell doom for Obama. Conventional wisdom holds that favorability needs to be up around 50 percent if a candidate expects to win. But there is recent experience that shows otherwise.
---