Constitutional amendment required to undo Citizens United, Senate panel told
No Republicans on the Senate Judiciary subcommittee attended the hearing, which heard testimony from lawmakers opposed to the Supreme Court's Citizens United ruling and constitutional scholars.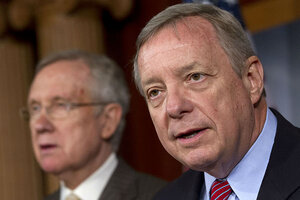 AP Photo/Jacquelyn Martin
It will take a constitutional amendment to reverse the flood of independent money inundating American elections in the aftermath of the US Supreme Court's controversial Citizens United decision, a Senate Judiciary subcommittee was told on Tuesday.
New laws alone will not be enough to counter the impact of the 2010 high court decision establishing that corporations have a First Amendment right to make independent political expenditures during election season, witnesses told the panel.
The hearing of the Judiciary Committee's subcommittee on the Constitution, Civil Rights, and Human Rights arises in a particularly heated election season in which new political spending enabled by Citizens United has played a prominent role. The hearing was chaired by Sen. Richard Durbin (D) of Illinois and was entirely a production of Democratic members of the Senate.
"I believe, as you believe, that the solution here is a constitutional amendment to restore the power to the hands of the people, not the corporations," said Senator Max Baucus (D) of Montana, one of the witnesses.
---