Americans see Mitt Romney as candidate for the rich, poll finds
The problem is not that Mitt Romney is rich, according to a new Pew survey. It's that he is seen as being a president who would help the rich more than the middle class.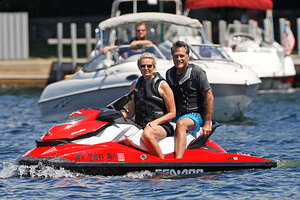 Charles Dharapak/AP/File
A poll released Monday suggests that Mitt Romney, and also the Republican Party, continue to struggle with perceptions that their policies benefit the rich more than the middle class.
Seventy-one percent of Americans say that if Mr. Romney were elected president, his policies would be good for the rich. Heading into the Republican National Convention, Romney will need to overcome the perception that his wealth puts him out of touch with regular Americans, and instead show that he is the candidate who represents the middle class.
"The fact that Romney may be viewed as wealthy doesn't necessarily pose problems for his candidacy," Kim Parker, associate director of the Pew project, told the Associated Press. "The challenge for Romney lies more in the fact that large majorities say if he is elected president, his policies would likely benefit the wealthy."
More broadly, 63 percent of respondents said the GOP favors the rich, while 23 percent said the party favors the middle class, and the 3 percent said it favors the poor, the poll found. In 2008, 59 percent of Americans said the GOP, and its candidate John McCain, supported policies that favored the rich.
---