Economists' surprising election-year request: Raise taxes, please!
In a survey of economists who work mostly for banks and businesses, a majority said some additional tax revenue is needed, along with spending cuts, to reduce the federal budget deficit.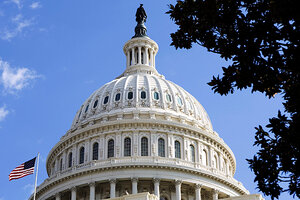 Manuel Balce Ceneta/AP/File
Economists who work for the nation's businesses have a request that sounds off-key in a US election year: Taxes should go higher.
They aren't asking Congress to raise taxes right away, but their argument in a newly released survey is that federal deficits need to be controlled, and that more revenue is part of the answer.
"The vast majority of survey respondents favors some combination of higher taxes and reduced spending to reduce the federal budget deficit," says a report from the National Association for Business Economics (NABE), which conducted the survey in August.
Even President Obama, while calling for higher taxes on high-income Americans, doesn't couch his argument in rhetoric, saying, "I like higher taxes." He explains that he's been a tax cutter in his first term, but that the richest Americans need to chip in more in tough times.
In the survey of 236 economists, who work mostly for banks and businesses, only one-third said that fiscal policy should be "tightened," as would occur with tax hikes, over the next year. But a majority said policy should become tighter starting in 2014.
When asked "How should Congress reduce the federal budget deficit?," participants were asked to pick from among five fiscal policy options. The most common response was "equally with spending cuts and tax increases" (selected by 45 percent), followed by "mostly with spending cuts" (31 percent), "mostly with tax increases" (14 percent), "only with spending cuts (9 percent), and "only with tax increases (1 percent).
On its face, the survey appears to show more support for Obama-style policies than for those advocated by the president's Republican challenger, Mitt Romney. President Obama, after all, has consistently and loudly called for a "balanced" approach that includes both spending cuts and tax hikes.
The survey found 90 percent of respondents supporting some blend of those two methods of reducing deficits, while Mr. Romney's espousal of "revenue neutral" tax reform lines up most closely with the 9 percent of economists in the survey who called for "spending cuts only."
---