Rep. Scott Rigell: Maverick GOP freshman in the eye of a political storm
Obama is hitting Virginia Beach, Va., Thursday for a reason: It's one of the hottest political ad markets in the country. Its congressman, Scott Rigell, is out to change Washington's 'toxic mix of partisanship, no facts, weak ideas.'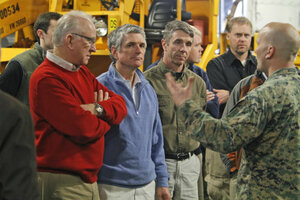 Steve Helber/AP/File
Virginia Beach and Norfolk, Va.
When President Obama touches down in Virginia Beach, Va., Thursday morning, he'll be crossing electoral ground that is both well-traveled and crucial in the race for the White House.
When Mitt Romney unveiled his vice presidential nominee, he did so just down the road in Norfolk, Va., where Rep. Paul Ryan (R) of Wisconsin walked down the ramp of the USS Wisconsin at an early-morning rally last month. Mr. Obama, for his part, is making his fourth trip to the area since June – on a par with his campaign travel to traditional campaign hot spots such as Miami and Columbus, Ohio.
The Norfolk media market, home to freshman Rep. Scott Rigell (R), has seen more than 21,000 political ads between April and early September, according to an analysis by the Wesleyan Media Project, making it the seventh-hottest ad-buying destination for Obama and Mr. Romney in the entire country.
Amid the political cyclone of being in a battleground district of a battleground state in a close presidential election, Congressman Rigell is worth watching both for what he's tried to do during his first term in Congress and what he and several dozen like-minded colleagues might achieve in the future.
---