GOP moderate from Ohio quitting his seat. Is he punishing his party?
The announcement by Steven LaTourette, just three months before November elections, that he is retiring, could cost Republicans a House seat they had expected to win.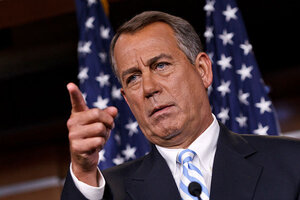 AP Photo/J. Scott Applewhite
Potentially leaving his party in the lurch, Rep. Steven LaTourette (R) of Ohio is set to announce his retirement at the end of this term, the Columbus Dispatch and The Hill newspaper reported Monday evening.
The nine-term lawmaker – a longtime ally of Speaker John Boehner of Ohio and one of the dwindling ranks of GOP moderates – was one of the first Republicans to break with the antitax pledge of Grover Norquist's Americans for Tax Reform, riling bedrock conservatives. He also backed the 2010 Simpson-Bowles deficit reduction plan, which called for tax hikes along with spending cuts and entitlement reforms.
Ohio Democrats have nominated accountant Dale Blanchard, a foe LaTourette vanquished twice before, in 2000 and 2002. Until Mr. LaTourette's announcement, expected Tuesday, Mr. Blanchard was likely only token competition. He had yet to raise any funds for his campaign, according to the Center for Responsive Politics in Washington. LaTourette, by comparison, had raised more than $1 million and had some $600,000 in cash on hand.
---