US cybersecurity report points accusing finger at China
An annual report to Congress says China is the biggest threat to US cybersecurity, spelling out in some detail who might be doing the cyberspying.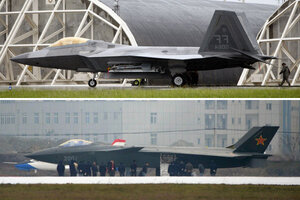 Kyodo News/AP/File (bottom); Yuriko Nakao/REUTERS/File (top)
The sheer volume of Chinese cyberespionage directed against the United States, together with its increasing sophistication, "make China the most threatening actor in cyberspace," concludes a new government report released Wednesday.
While it is still unknown who in China, specifically, is doing the hacking, technical gains are helping trackers trace cyberespionage "campaigns" back to the country. Among the culprits, according to the annual report to Congress of the US-China Economic and Security Review Commission:
Informal "cyber warfare militia" composed of workers with high-tech day jobs that focus on military communications, electronic warfare, and computer network operations.
Three intelligence and security service ministries.
Patriotic hackers conducting espionage out of nationalist fervor.
Criminal hackers conducting industrial espionage for private, state-owned, or government clients.
Big IT companies and telecommunications firms.
"China's cyber capabilities provide Beijing with an increasingly potent tool to achieve national objectives," the congressional report states. "In a strategic framework that leans heavily on cyber espionage, a diverse set of Chinese hackers use pilfered information to advance political, economic, and security objectives."
---