Rebuilding the GOP: Can Republicans pitch a bigger tent?
The party must come to grips with the 'demographic realities' reshaping the US electorate and devise new strategies for connecting with growing populations of minorities, single women, and youth.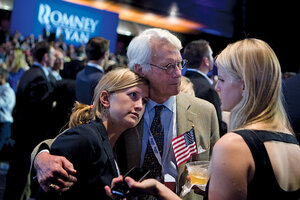 Andrew Harrer/Bloomberg/Getty Images
With a rainbow coalition of voters propelling President Obama to a decisive Electoral College victory in which all but one battleground state turned blue, election night 2012 was a wake-up call for many Republicans. Now, the GOP is beginning to delve into a long and likely divisive period of self-examination over what it can do to right itself with a rapidly changing America.
The consensus among many top Republican strategists and politicos, from Karl Rove to former Arkansas Gov. Mike Huckabee to Sen. Marco Rubio is this: If the GOP can't rebuild a foundation more welcoming to key subsets of the electorate, it runs the risk of being shut out of the White House for good.
"Our party needs to realize that it's too old and too white and too male, and it needs to figure out how to catch up with the demographics of the country before it's too late," Al Cardenas, head of the American Conservative Union, told Politico after the election. "Our party [has] a lot of work to do if we expect to be competitive in the near future."
---