Is the California economy finally turning a corner?
In California, the deficit for the current fiscal year is projected to be $1.9 billion, down from $25 billion in recent years. The unemployment rate and some home sales are also improving.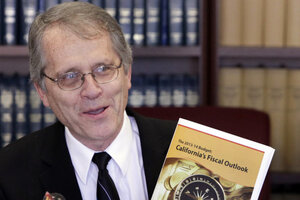 Rich Pedroncelli/AP
There are several signs that California's economic fortunes – after plummeting for half a decade – are on the rebound, buoyed by voter approval this month of tax-raising Proposition 30.
Here is the evidence:
• The independent California Legislative Analyst's Office projects a relatively small $1.9 billion deficit for the current fiscal year – down from $25 billion in recent years. "There is a strong possibility of multibillion-dollar operating surpluses within a few years," the Nov. 14 report concludes.
• The state's unemployment rate has dropped 1.4 percentage points since October 2011 and is now at the lowest point since February 2009. The rate is still high, however: 10.1 percent.
• Home sales are increasing in some regions of the state, such as southern California, where they rose 25 percent in October compared with the previous year, according to the University of Southern California's Lusk Center for Real Estate.
• A USC Dornsife/Los Angeles Times poll from Nov. 18 indicates that the percentage of Californians who say the state is headed in the right direction has doubled since October 2011 – although the current figure is only 38 percent.
• New income is expected from the passage of not only Prop. 30, but also Prop. 39, which repealed an existing law that gave out-of-state businesses favorable tax treatment.
---