'Fiscal cliff' road trip: Obama talks Scrooge as GOP stews
President Obama went back into campaign mode Friday at a toy factory near Philadelphia, while Republicans back in Washington declared fiscal cliff negotiations are in a stalemate.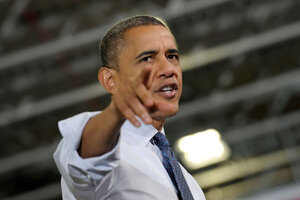 Susan Walsh/AP
President Obama's speech Friday at a toy factory in suburban Philadelphia – an electoral battleground area – had all the hallmarks of a campaign event. An American flag was prominently displayed. About 350 people packed the room, eager to see the president. An audience member yelled out, "We love you." Mr. Obama replied, as always, "I love you back."
But on this last day of November, 3-1/2 weeks after Election Day, the focus was not on whether the president would keep his job. It was, to paraphrase Obama, "now that I have been reelected, let's do what I campaigned on": allow the middle class to keep its Bush-era tax cuts – $2,200 a year for a typical family of four – while tax cuts for the wealthiest 2 percent should be allowed to expire at the end of the year.
"It's not acceptable to me, and I don't think it's acceptable to you, for just a handful of Republicans in Congress to hold middle-class tax cuts hostage simply because they don't want tax rates on upper-income folks to go up," Obama said at the Rodon factory in Hatfield, Pa., where toys such as K'NEX and Tinkertoys are produced.
The toy factory was selected for obvious reasons: It's the holidays, and if middle-class taxpayers know their taxes won't go up at the end of the year, they can feel more comfortable spending money on gifts. But if Congress does nothing, and everyone's taxes go up, "That's a Scrooge Christmas," Obama said.
The president came out with other holiday quips. "Now, of course, Santa delivers everywhere," Obama said. "I've been keeping my own naughty-and-nice list for Washington. So you should keep your eye on who gets some K'NEX this year. There are going to be some members of Congress who get them, and some who don't."
---