Obama's pollster: Republicans have a tolerance problem
Obama's campaign pollster, Joel Benenson, says the Republican challenge goes beyond the Latino vote, extending to anyone who isn't white and thinks differently from party orthodoxy.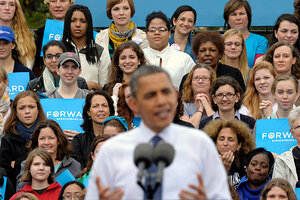 Susan Walsh/AP/File
Much has been made of GOP presidential nominee Mitt Romney's catastrophic performance last month among Latino voters – just 27 percent to President Obama's 71 percent.
Now at 10 percent of the American electorate, Latinos are the nation's fastest-growing minority. Suddenly, Republicans are suing for peace on comprehensive immigration reform, an issue they have long resisted out of fear it could lead to "amnesty" for those in the country illegally.
But to Joel Benenson, Mr. Obama's campaign pollster, the GOP's problem is bigger than Latinos and immigration.
"The Republican Party has a tolerance problem," Mr. Benenson told reporters Wednesday at a session hosted by Third Way, a centrist Democratic group. "I think when you define people who look differently than you as illegal aliens, and use that term over and over again, and talk about self-deporting them, that's a tolerance issue."
The "looking different" issue, Benenson adds, also helps explain why Asian-Americans voted for Mr. Obama over Mr. Romney by an even wider margin than Latinos, 76 percent to 23 percent. He suggests that the Obama campaign's message on investment – in education, in building a future through hard work –also won Asian-American votes.
But the tolerance issue, he says, goes beyond race and ethnicity – it goes to issues.
"When you call people who believe in global warming 'job-killers,' you have a tolerance problem," Benenson says.
"When you want to deny gay people, who want to make a lifetime commitment to each other, just as their parents did, because they want to spend a life together, and you want to deny them that life aspiration, you have a tolerance problem," he says.
---