John Boehner's fiscal 'Plan B': What is it for and can it pass?
With a 'fiscal cliff' deal appearing closer than ever, Boehner offered up a fallback 'Plan B.' It seems designed to make Democrats uncomfortable and provide cover for Republicans ... if they pass it.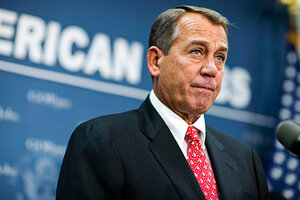 Joshua Roberts
Even with House Speaker John Boehner of Ohio and President Obama appearing closer than ever to an accord on tax increases, entitlement changes, and spending cuts to avoid the "fiscal cliff," there is no letup in the game of political hardball being played outside the negotiations.
Tuesday morning, hours after receiving a compromise proposal from Mr. Obama that essentially split the difference between the two sides' starting positions, Speaker Boehner announced a fallback "Plan B" in which the House, perhaps as early as Thursday, would vote to raise taxes on those earning more than $1 million a year.
The proposal appeared designed at the minimum to put Democrats – many of whom had supported just such a plan in the past – into a political bind, provide cover for the Republicans in the event the negotiations fail, and, in so doing, seek to exert more pressure on the president. The potential floor vote on a tax increase, moreover, could indicate how much support the Speaker could expect for a tax increase as part of a broader compromise with the president.
While Boehner said he would continue to negotiate a deal for avoiding the fiscal cliff of $600 billion in higher taxes and spending cuts slated to begin Jan. 1, his Plan B was quickly rejected by the White House and Democratic leaders in both the House and Senate.
Boehner announced his fallback plan the morning after a White House proposal emerged that backed off the president's election promise of raising tax rates on household income over $250,000, raising the threshold for higher tax rates to $400,000 per household.

Together with a compromise position on the estate tax and higher rates on capital gains and dividends, among other tax measures, the president's offer would raise $1.2 trillion in higher taxes over the next decade, at the midpoint of the president's initial offer of $1.6 trillion and Boehner's opening offer of $800 billion.
---