Immigration reform: Is 'amnesty' a possibility now?
Congress seems primed to address immigration reform in 2013, and even a path to citizenship – which critics deride as 'amnesty' for illegals – may be on the table. The shift in the national conversation came suddenly. Here's why.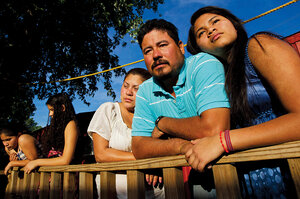 Dave Martin/AP
The momentum of President Obama's resounding victory in November's election – with a big push from Latinos and other minority groups – has catapulted immigration policy to the top of Washington's 2013 agenda, making reform not only possible but also likely.
The shift in the political conversation has been so dramatic that even a pathway to citizenship for some of the estimated 12 million undocumented immigrants in the United States – long rejected out of hand by most Republicans and some Democrats – could be part of the deal.
The task is momentous. It involves weighing the wishes of industries from agriculture to high-tech, as well as the sensitivities of opening the door to immigrant workers at a time when unemployment remains high.
The past only reinforces the potential difficulties ahead. In 1986, Republicans felt betrayed when Democrats stripped the enforcement provisions from a bill that offered citizenship to some 3 million illegal immigrants. By 2005, the issue had become so politically toxic to conservatives that they blocked President George W. Bush's push for a new round of immigration reform.
Yet with Election 2012 highlighting the electoral consequences of America's changing demographics, the next year appears to be ripe for compromise. How reforms might take shape could be a major point of contention between the parties, but lawmakers on both sides suddenly see an opportunity for what could be their most expansive achievement of 2013.
---