Three (thin) reasons why Congress could yet avoid the fiscal cliff
A deadline, the promise of a House vote on whatever the Senate can produce, and a sharp reaction on Wall Street boost prospects that gridlocked lawmakers will act to avert at least some aspects of the fiscal cliff by Jan. 1.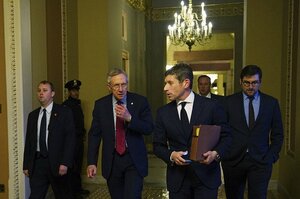 Mary Calvert/REUTERS
With just three days to the fiscal cliff, it's down to the Senate – which has not passed a budget in three years – to find a way out in time for a vote on New Year's Eve.
Yet, despite a culture of failure that has settled on Washington like an ice storm, there are 11th hour pressures that could drive Congress to avert at least some elements of the "fiscal cliff" set to begin Jan. 1, including a week-long sell-off on Wall Street and a rare pledge that the GOP-controlled House will allow a vote on whatever the Democrat-controlled Senate produces.
"We just can't afford a politically self-inflicted wound to our economy," said President Obama in his weekly radio address on Saturday. "The economy is growing, but keeping it that way means that the folks you sent to Washington have to do their jobs."
Ever since the 2011 debt-ceiling crisis, the focus of efforts to come up with a deficit-reduction plan has been private talks between President Obama and House Speaker John Boehner (R) of Ohio. Those efforts collapsed last week after a critical mass of GOP conservatives rejected Mr. Boehner's "Plan B" to exclude incomes over $1 million from an extension of the Bush-era tax cuts.
2012 enters the record books. Were you paying attention? A news quiz.
---