'Fiscal cliff' deal: After rush of relief, debt ceiling clash already looms
The 'fiscal cliff' deal passed the House after Republicans broke ranks over taxes. But spending cuts loom large in the next clash, over raising the debt ceiling, which Obama says is nonnegotiable.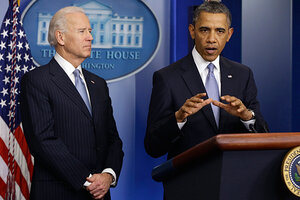 Charles Dharapak/AP
Just 10 hours before the New York Stock Exchange opened on Wednesday, the GOP-controlled House passed the Senate's "fiscal cliff" bill, 257 to 167, marking the first time that Republicans have, effectively, voted to raise income taxes in 20 years.
Markets from Tokyo to Wall Street surged at the news that Congress had, at last, resolved the fiscal cliff, some $600 billion in tax hikes and spending cuts that threatened to drive the US economy back into recession.
The vote marked a clear victory for the White House on what had been a rock-solid GOP principle: no tax increases. President Obama made that point publicly several times in the midst of tough weekend negotiations, riling GOP leaders.
But the victory could be shortlived. Sharp divisions persist over how to deal with the nation's $16 trillion national debt and soaring deficits, which Congress and the White House must face as early as February when they reengage over raising the debt ceiling.
Moreover, the fiscal cliff deal was worked out over the strong objections of conservatives on the right of the Republican Party and liberals on the left of the Democratic Party, not fully reflected in the final vote.
---