Senate Democrats unveil assault weapons ban. Can it win any GOP support?
The assault weapons ban offered by Sen. Feinstein was tougher, in some respects, than the expired 1994 ban, but it also sought to reassure current gun owners: 'No weapon is taken from anyone.'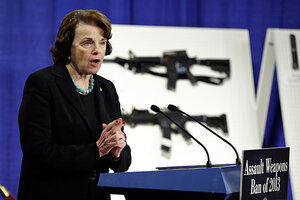 Manuel Balce Ceneta/AP
Facing long political odds, congressional Democrats nonetheless unveiled legislation on Thursday that would greatly restrict the availability of assault weapons, one of the major legislative changes requested by President Obama in the aftermath of the massacre in Newtown, Conn.
Sen. Dianne Feinstein (D) of California offered a bill that sought to toughen restrictions as compared with the previous assault weapons ban while at the same time reassuring current gun owners.
The bill would ban the sale, transfer, manufacture, and importation of all semiautomatic rifles and pistols that can accept a detachable magazine and have at least one of roughly a half-dozen potential military features.
Other restrictions include a ban on certain semiautomatic shotguns, ammunition feeding devices able to hold more than 10 rounds, and 157 specific firearms, including the AR-15 Bushmaster used in the Newtown school shooting that turned the attention of the president and the public toward questions of gun violence.
Senator Feinstein was "horrified" and "incensed," she said, "that our weak gun laws allow these mass killings to be carried out again and again and again" by military-style weapons or firearms equipped with large-capacity magazines.
Feinstein's bill differs from the previous ban, which expired in 2004, by reducing the number of military-style features that qualify a weapon for the ban from two to one, a change she said would prevent manufacturers from making largely cosmetic changes to skirt the law. The new measure also blocks the import of banned weapons and magazines and would be a permanent change instead of expiring after a decade.
The bill, however, specifically excludes 2,258 "legitimate hunting and sporting rifles and shotguns" (up from under 400 in the 1994 bill) and any weapon lawfully possessed at the time of the bill's enactment.
"No weapon is taken from anyone," Feinstein emphasized. "The purpose [of the legislation] is to dry up the supply of these weapons over time."
While a majority of Americans favor many of the proposals in Feinstein's law, the assault weapons ban will face a difficult congressional slog because of deep opposition from Republican lawmakers and the powerful National Rifle Association, who marshal questions about whether banning assault weapons would lead to a drop in violence.
---