Can Republicans get their act together before Obama 'pulverizes' the right?
Meeting in Charlotte, N.C., this week, a weakened Republican National Committee laid out plans for how to regain the GOP's electoral footing after losses in 2012. But questions about where Republicans really stand went unanswered.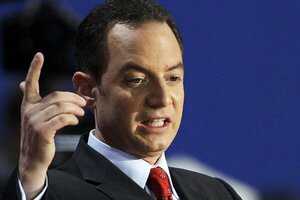 Charlie Neibergall/AP
Perhaps trying to eke some mojo out of the city where the Democrats held their successful convention last year, the Republican National Committee came out of a three-day meeting in Charlotte, N.C., this week with a blueprint for what the dispirited party hopes is a way out of the post-election weeds.
The meeting confirmed what most Americans can see plainly: The Party of Lincoln is having a crisis of confidence. The failure of Mitt Romney to connect deeply enough to win a race against a vulnerable Democratic incumbent shook the party establishment, which is already dealing with a powerful internecine and absolutist revolt from right-wingers in the guise of the tea party.
For Reince Priebus, the chairman of the Republican National Committee, the battle is to reach out to new demographics and beef up the party's moribund ground game, but also to shift the conversation away from "government bookkeeping" to dinner table dilemmas – all while remaining relevant against an attempt by President Obama to, in effect, "pulverize" the party, in the words of Slate columnist John Dickerson.
Though many Republicans believe the cure is for the party to run even harder on fiscal principles – lower taxes, lower spending, give me liberty or give me death – it may well be the party's success in breaking out its "older white guy" mold that defines its fortunes in 2014 and beyond, and calibrates it for battles with Obama that are likely to define America for generations.
---