Will your state taxes go up? How legislatures are leaning.
As red states get redder and blue states bluer, state taxes could head in opposite directions. Some states are trying to eliminate income taxes, others are raising them.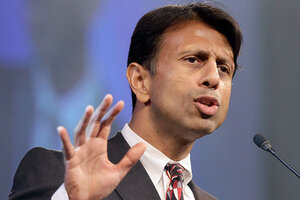 Danny Johnston/AP/File
America's red-blue divide is growing more pronounced in state governments, and this rise of one-party politics – along with increasing revenues – is pushing states to consider bold changes in tax policy.
Republicans now control the legislature and governorship in 24 states, with several moving forward on plans to eliminate their income tax – a holy grail of the conservative movement.
Meanwhile, Democrats control 13 states, with several angling to raise taxes to finance new government spending – an idea that might have been seen as politically toxic even a year ago.
The opposite approach to taxes highlights the polarization of state politics, which has been building for the past decade but reached an apex after the 2012 election. The 37 states controlled by one party is the highest number since 1928, according to the National Conference of State Legislatures.
But it also suggests how American attitudes on taxation may be shifting. While Republicans appear to be doubling down on their conviction that low taxes drive economic growth, Democrats' willingness to raise taxes suggests that, at least on the left, there is a fresh openness to at least some higher taxes after decades of virtually no support for new taxes across the American electorate.
In some ways, tax policy is one of the leading indicators of legislatures "shifting away from the middle," regardless of single-party control, says Josh Goodman, staff writer for Stateline, the news service for the Pew Center on the States.
---