Behind-the-scenes deal pushes immigration reform closer to reality
The US Chamber of Commerce and the AFL-CIO came up with a framework for solving one of the thorniest issues in immigration reform. The agreement shows momentum is growing.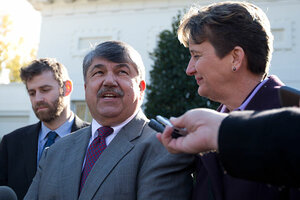 Carolyn Kaster/AP/File
A compromise agreement announced Thursday between the nation's largest labor union and the top advocate for American business underscores the enormous momentum now behind immigration reform.
The agreement touches on what was seen to be potentially one of the biggest stumbling blocks in the immigration reform debate – namely, how the country should handle the flow of low-skilled, temporary foreign workers.
In finding middle ground, the AFL-CIO and the US Chamber of Commerce – two powerful organizations often at loggerheads – have taken a "strong step forward" in resolving the issue, says Ali Noorani, executive director of the National Immigration Forum. Moreover, they have added to the impression that important stakeholders – seeing immigration reform as increasingly likely – are putting aside public posturing in order to hammer out solutions.
"This particular slice of the pie is the most important piece: What does our immigration system look like moving forward?" Mr. Noorani says. "Every day, [the Chamber and the AFL-CIO] are going to continue to put more meat on these bones.... For them to agree, even on the bones, means that they've been engaged in a really serious negotiation."
Praise for the deal came from both sides of the aisle – House majority leader Eric Cantor (R) of Virginia and Sen. Charles Schumer (D) of New York. "We are very hopeful that an agreement can be reached on a specific proposal in the next few weeks," said Senator Schumer, a member of the bipartisan Senate group working on an immigration compromise, in a statement.
The principles of the agreement call for creating an independent commission that would study the labor market and propose tweaks to the number of lower-skilled workers admitted to the country. Currently, the number of temporary workers allowed into the country is set predominantly by quotas that continue at stable rates from year to year no matter the economic condition in the US.
---