Immigration reform 101: Is a sensible guest-worker program possible?
The immigration-reform plan proposed by a group of bipartisan senators seeks to establish a flexible guest-worker program. But labor and business want to do that in two very different ways.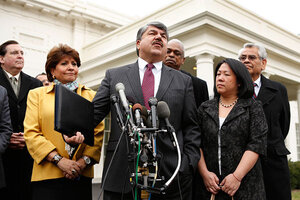 Kevin Lamarque/Reuters
When a bipartisan gang of senators unveiled its immigration-reform proposals in January, tucked in near the end was a short sentence with sweeping ambition: "allow more lower-skilled immigrants to come here when our economy is creating jobs, and fewer when our economy is not creating jobs."
Within that simple-sounding statement lies the revolutionary possibility of a "smart" immigration system for foreign workers – a fluctuating stream of international labor that would be a stark departure from the United States' current approach of smacking strict (and largely arbitrary) quotas on employment-based immigration.
While a market-driven system for temporary workers is a goal shared by America's largest labor unions (like the AFL-CIO) and corporate interests embodied by the Chamber of Commerce, the two sides appear to differ sharply on the details.
That means that crafting one of the most ambitious policy proposals in the current immigration-reform debate could unravel the entire program by busting the ongoing partnership between labor and management, two of immigration reform's key outside players.
In 2011, the US admitted more than 2 million temporary workers, a figure that swells to more than 3 million when the workers' families are included, according to the Department of Homeland Security. Roughly half of those, ranging from seasonal agricultural workers to nurses to electrical engineers, could be governed by a new flexible visa regime.
---