Immigration reform: Amid GOP reservations, signs of flexibility
A hearing Tuesday offers a first look at how the GOP-led House might approach immigration reform, an issue that has vaulted to the top of Washington's agenda. Democrats were fairly pleased with what they saw.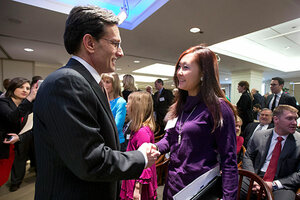 Manuel Balce Ceneta/AP
Republicans remain conflicted about reforming America's immigration system, but judging from remarks by House majority leader Eric Cantor and the tone of the Republican-led House's first hearing on immigration, they appear willing to join the immigration debate rather than try to short-circuit it.
In a speech at the conservative American Enterprise Institute on Tuesday, Mr. Cantor, the No. 2 Republican in the House, offered support for the broad contours of the DREAM Act, long-stalled legislation that would allow the children of undocumented immigrants a special path to legal status in the US – and eventually citizenship.
Cantor, one of the party's foremost conservatives, voted against the DREAM Act in 2010.
"One of the great founding principles of our country was that children would not be punished for the mistakes of their parents," he said Tuesday. "It is time to provide an opportunity for legal residence and citizenship for those who were brought to this country as children and who know no other home."
In the House Judiciary Committee, meanwhile, conservative lawmakers expressed concern about the federal government's poor record on immigration enforcement. Many spoke of the 1986 reform law, which legalized many more undocumented people than lawmakers then had expected and which proved to be ineffective at stemming the tide of illegal entrants despite, for example, employer sanctions for immigration violations and new border-security measures. Some lawmakers blame that law for helping to create a situation that resulted in a renewed inflow of undocumented individuals, now estimated to number 11 million.
---