Pot on the patio? Colorado's 'surreal' path to legalizing marijuana.
Colorado's Amendment 64 Implementation Task Force is wading through the weeds of marijuana legalization, creating regulations to take pot from the shadows out into the open.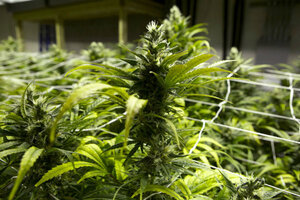 Ed Andrieski/AP
In the wake of the decision by voters in Colorado last November to legalize recreational marijuana for adults, the question of how to actually integrate legal pot into the practical, and often bureaucratic, realities of modern American life has fallen on two dozen Coloradans.
By the end of the month, the Amendment 64 Implementation Task Force must submit a report to the Colorado Legislature that lays out its suggestions for how the state should regulate legal marijuana. It has been a curious process.
On one hand, the task force has considered new rules for what Colorado should do when it inevitably becomes a center of "pot tourism," it has debated whether smokers can use their backyard patios to light up, and it has considered how to deal with "marijuana clubs" that will appear. Yet, at the same time, marijuana use remains illegal according to federal law, and the Department of Justice may step in and try to invalidate everything the task force has done.
In a time when as many as 25 states are considering pro-marijuana laws, what Colorado does could be broadly significant. How it converts a massive black market into what experts call "problematic adult commerce" on the fringes of society – akin to gambling, drinking, and go-go clubs – all amid lingering legal concerns, could provide a framework for other states to follow.
So far, the results from the task force point to legal marijuana regulations that in many ways mirror regulations on alcohol and tobacco yet, because of the drug's unsettled legal status, are in some ways distinctly separate.
---