Republican Sen. Mark Kirk backs gay marriage: How big a deal?
Sen. Mark Kirk became the second Republican senator in as many months to declare his support for gay marriage. But he's a moderate from a solidly blue state.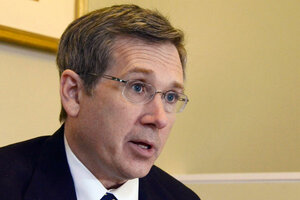 Bill Zars/Daily Herald/AP/File
Illinois Sen. Mark Kirk is now the second Republican in the US Senate to support gay marriage. Senator Kirk made the announcement via his Senate blog Tuesday, saying "life comes down to who you love and who loves you back – government has no place in the middle."
Kirk joins Sen. Rob Portman of Ohio, who took a similar position last month. There are now 50 US senators who support gay marriage, a number that includes 46 Democrats and two independents.
Like Senator Portman, whose gay son prompted his change in stance on the issue, Kirk framed his reversal on his personal life. He suggested his return to the Senate after a year absence following a major stroke played a role in his decision.
"When I climbed the Capitol steps in January, I promised myself that I would return to the Senate with an open mind and greater respect for others.… Our time on this earth is limited, I know that better than most," he wrote.
While Kirk's switch carries some symbolic weight, far more significant would be a Republican senator in a red state openly supporting gay marriage. Last week, Sen. Lisa Murkowski (R) of Alaska told a local media outlet that her views on gay marriage are "evolving" but would not commit further. Only two Republicans in the US House, Reps. Ileana Ros-Lehtinen of Florida and Richard Hanna of New York, are on record with their support.
---