Politics of gay marriage: How close is GOP to changing its stand?
While there is some movement on the issue of gay marriage in the GOP, there are more shoes that would need to drop before a sweeping change in the party. But the tension is mounting.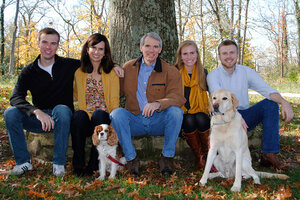 Office of US Sen. Rob Portman/AP
As the US Supreme Court considers two historic gay marriage cases this week, the politics of the issue are also in the spotlight. Five US senators, most of them not liberal – Rob Portman, Claire McCaskill, Mark Warner, Jay Rockefeller, and Mark Begich – have all recently announced support for a right to same-sex marriage, the last four this week.
There's a pattern to these announcements. In the case of Senator Portman, a Republican, the change of heart came because of his gay son. And he's from Ohio, a battleground state that mirrors the politics of the nation as a whole, which have shown a steady, marked shift toward approval of same-sex marriage. Nationally, the number is now well above 50 percent.
Senator McCaskill of Missouri is a Democrat in a Republican-leaning state who was just reelected and won't be up again until 2018. Senator Warner (D) of Virginia – like Ohio, a big swing state – is up for reelection in 2014, and probably safe. Senator Rockefeller (D), a liberal, represents increasingly conservative West Virginia, but he is retiring.
Senator Begich of Alaska might be the closest call of the four: He's a Democrat up for reelection next year in a Republican state. And support for gay marriage in Alaska is at just 43 percent, according to Public Policy Polling. But Begich seems to be counting on a libertarian streak in his state that goes beyond gay marriage.
"Alaskans are fed up with government intrusion into our private lives, our daily business, and in the way we manage our resources and economy," he said in his announcement Monday.
So what is the next shoe to drop? Republicans who favor the right to same-sex marriage are increasingly common. Vice President Dick Cheney announced his support way back in 2004, citing his gay daughter. Last month, dozens of prominent Republicans – former governors and members of Congress, former advisers to Republican administrations, former advisers to recent presidential campaigns – signed on to an amicus brief arguing that gay couples have a constitutional right to marry.
The effort was organized by former Republican National Committee chairman Ken Mehlman, who came out as gay after he left public life.
---