Lindsey Graham: The senator who revels in the 'ugly' issues
If there's a particularly partisan issue, Lindsey Graham of South Carolina is likely to be in the middle trying to find a solution – in a conservative way.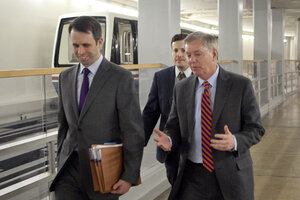 Melanie Stetson Freeman/The Christian Science Monitor
For the first several months of President Obama's second term, the newly reelected chief executive got no gentle treatment from Lindsey Graham, the senior Republican senator from South Carolina.
Senator Graham savaged UN Ambassador Susan Rice, a close friend of Mr. Obama's, for her public handling of the terror attack in Ben­ghazi, Libya. He excoriated a onetime colleague, former Sen. Chuck Hagel (R) of Nebraska, when the president put up the taciturn Midwesterner as his choice for secretary of Defense. And he balked vociferously at the White House's push for more stringent gun laws.
So whom did Obama call to organize a dinner for himself and often-recalcitrant Senate Republicans as the first serious bipartisan outreach of his second term?
Graham, of course.
Over nearly two decades in Congress, Graham has earned almost singular renown for his political and policy entrepreneurship, a consistent willingness to find conservative ways to solve problems rife with partisan divisions. The bigger the problem, the uglier the politics, the more likely the slight man with the classic Southern-lawyer demeanor will be at the center of the fray.
---