Before members rush for airports, Congress ends sequester flight delays
Once again, the prospect of missing flights home helped Congress resolve a standoff, this time over sequester cuts that had furloughed air traffic controllers and caused flight delays this week.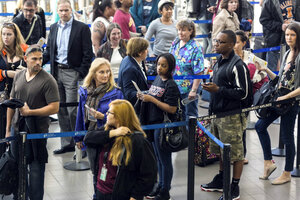 Damian Dovarganes/AP
Jet fumes.
In Congress, it's a phrase used humorously by staffers and aides hinting that the alluring scent of idling jets has a magical way of speeding up the legislative process when time back in lawmakers' home districts draws near.
On Thursday night and Friday afternoon, however, the Senate and House were literally moved to action by jet fumes: Congress rushed legislation to patch funding for air traffic controllers furloughed by the automatic budget cuts known as the "sequester" just before jetting home for a week in their states.
The Senate passed the bill without a vote Thursday night. House lawmakers approved the legislation, 361-41, before scampering out of town Friday.
The legislation stopped FAA staff reductions that left planes idling on runways across the country and canceled some flights altogether.
The first impact of the legislation, which White House spokesman Jay Carney told reporters the president would soon sign, would be to stop flight delays (of which there were 6,000 more between Sunday and Wednesday of this week than in the same time last year, according to the air traffic controllers' union) and potentially reopen dozens of rural airports that would have been shuttered by the furloughs.
But it also shows that the Democratic goal of reaching a grand bargain of targeted spending reductions and higher taxes in place of the $1.2 trillion in sequester cuts now mandated over the next decade has some short-term political problems.
Like air traffic controllers, it turns out.
While President Obama wants to find an alternative for all of the roughly $80 billion in sequester cuts this year, Republicans have instead tried to push the responsibility for deciding who gets furloughed or which programs get cut onto Mr. Obama and his executive agencies by giving them discretion to decide which specific budget items get whacked. The sequester measure, as it originally passed Congress, required across-the-board cuts.
---