Hearing on IRS: What ousted chief offers, Republicans don't buy
Steven Miller, who resigned as acting IRS head this week, argued that the extra scrutiny for conservative groups amounted to 'foolish mistakes.' House Republicans see some problems reaching the White House.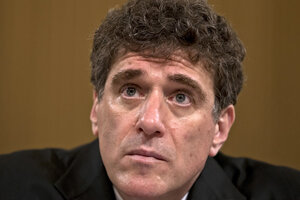 J. Scott Applewhite/AP
Was the Internal Revenue Service criminal in layering on extra scrutiny to tea party groups seeking nonprofit status, or just bureaucratically shortsighted and "obnoxious," as the agency's former head put it Friday?
The first position was taken by Republican members of the House Ways and Means Committee, which grilled Steven Miller, the IRS's former acting head, during Friday's committee hearing on the IRS scandal – the first such panel since the subject came to light a week ago.
The latter position was the counterclaim by Mr. Miller, the man who recently tendered his resignation at President Obama's request even though he took over the agency last November, after the targeting had stopped.
"I think that what happened here was that foolish mistakes were made by people trying to be more efficient in their workload selection," said Miller, who offered he found out about the issue in May of last year, when he was deputy commissioner for services and enforcement.
Miller's explanation for why the IRS targeted conservative groups that applied for tax-exempt status and unduly delayed those applications tracked with what the Treasury Department's inspector general for tax administration found in a report issued earlier this week.
"The listing described in the report, while intolerable, was a mistake and not an act of partisanship," Miller said.
---