Will GOP plan to cut food stamps save the farm bill ... or kill it?
After the farm bill's stunning defeat last month, House GOP leaders are feeling out whether they can strip out a massive food stamp program and win back enough conservative votes to pass the aid to farmers.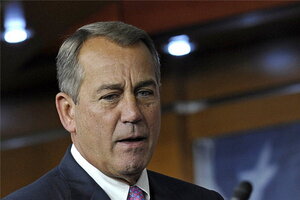 Susan Walsh/AP/File
The farm bill is back from the dead.
But the way Republicans planned its resurrection, after the bill's shocking collapse in the House two weeks ago, may yet kill it for good – and perhaps poison farm policy for the foreseeable future.
At issue is whether House Republican leaders can break the half-century-old connection between farm supports and nutrition aid for poor Americans and pass only the farm provisions, as early as later this week, solely with GOP support.
Speaker John Boehner (R) of Ohio suffered a stunning defeat on the farm bill last month, after 62 Republicans voted against the bill and all but 24 Democrats, opposed to some $20.5 billion in cuts to food aid over 10 years, also defected. The bill failed, 195 to 234, on June 20.
By splitting off the food stamp title of the legislation, which accounts for 80 percent of the nearly $1 trillion bill, GOP leaders hope to attract back enough conservative Republican votes to pass the measure. That would allow the House to negotiate with the Senate over a comprehensive Senate measure that drew the support of roughly two-thirds of that chamber's members.
In some ways, the strategy appears sensible. Conservative groups and lawmakers, including Budget Chairman Paul Ryan (R) of Wisconsin, have long wanted to divorce the two programs, arguing that putting them together helps shield social welfare spending from appropriate fiscal scrutiny. Given that Republicans hold the majority in the House, doing things conservatives want should bring more GOP votes.
---