How much longer can San Diego Mayor Bob Filner hang on?
Accused by more than a dozen women of inappropriate conduct, San Diego Mayor Bob Filner has been told by nearly every fellow Democrat to resign. He also faces a recall effort.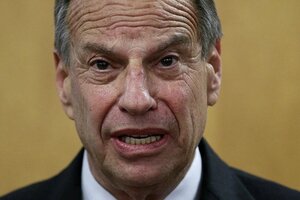 Gregory Bull/AP
How much longer can San Diego Mayor Bob Filner hang on?
Thirteen women – or is it 14? – have accused him of inappropriate conduct ranging from a variety of unwanted gropings, leering comments, and a lawsuit charging sexual harassment.
Prominent fellow Democrats are telling him to resign, most recently US Senator Barbara Boxer (D) of California.
"Dear Bob," Sen. Boxer begins in an open letter, "You must resign because you have betrayed the trust of the women you have victimized, the San Diegans you represent, and the people you have worked with throughout your decades in public life." (That public life also included several terms in Congress.)
Both the Democratic Party of San Diego and Democratic National Committee Chair Rep. Debbie Wasserman Schultz (D) of Florida have called on Filner to resign.
A recall effort has been organized, raising money for signature gathering. For him to stay in office, states the effort's website, "puts the city at risk from lawsuits, compromises the ability to get city business done, and makes San Diego the brunt of jokes on late night TV."
The worse news for Filner may have come Saturday in a report in the U-T San Diego newspaper (formerly known as the San Diego Union-Tribune).
"Federal, state, and local investigators have been gathering information and building cases against San Diego Mayor Bob Filner beyond the sexual harassment accusations that have captured national attention," the newspaper reported:
---