How Bill Clinton's prime-time convention speech could hurt Obama
Democrats are excited that former President Bill Clinton will deliver a prime-time address the night before President Obama's big speech in Charlotte, N.C. But there could be a downside, which the Republicans are already trying to exploit.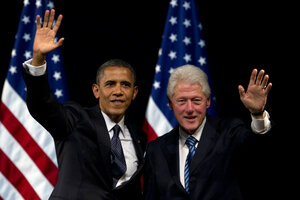 Carolyn Kaster/AP/File
Let's first get something straight: Bill Clinton's prime-time speech at the Democratic convention the night before President Obama's isn't going to decide the election.
Yes, the charismatic former president remains extremely popular – 66 percent favorability in the latest CNN poll – and he could knock it out of the arena. Mr. Clinton has the potential, in particular, to reach white, working-class voters, a demographic that challenges Mr. Obama. But the election is still going to boil down to how swing voters feel about Obama's potential to revive the economy over the next four years. Chances are, Clinton's speech will be all but forgotten by Election Day.
In fact, Clinton's address – to be announced Monday, according to The New York Times – could end up hurting Obama.
"There will be people who say it helps Obama, but they're already voting for him," says Larry Sabato, a political scientist at the University of Virginia, Charlottesville. "And it will just remind people that Obama is no Bill Clinton when it comes to the economy."
---