Mitt Romney pitches smaller government: Is his target realistic?
While President Obama sees sizable government as fostering economic growth, Mitt Romney wants to cap federal spending at 20 percent of GDP. Is that goal feasible – and economically helpful?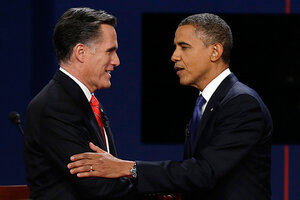 Charlie Neibergall/AP
Among the many themes that reverberated in the first presidential debate, perhaps none summarized the contest so much as this: President Obama defended a sizable and active government as a building block of economic growth, while challenger Mitt Romney said healthy job creation depends on sharply rolling back the federal government's scale.
"Spain spends 42 percent of their total economy on government. We're now spending 42 percent of our economy on government. I don't want to go down the path to Spain," Mr. Romney said in the debate in Denver on Wednesday night.
His reference to a European nation in crisis came as the candidates sparred over how to curb federal deficits. That should be done via spending cuts, not tax hikes, the former Massachusetts governor said.
"The problem with raising taxes is that it slows down the rate of growth and you could never quite get the job done," he said. "I want to lower spending and encourage economic growth at the same time."
Mr. Obama, by contrast, said that even though deficit reduction is important, so are public investments that can help generate economic growth. And he derided Romney's call to cap federal spending at 20 percent of gross domestic product.
"The magnitude of the tax cuts that you're talking about, Governor, would end up resulting in severe hardship for people, but more importantly, would not help us grow," Obama said to his Republican rival.
---